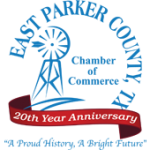 The East Parker County Chamber of Commerce is an energetic and visionary organization in our region. We are committed to building a prosperous community while preserving heritage and culture in our area.
Our mission is to promote and attract business that adds value to the community.
100 Chuck Wagon Trail
Willow Park, TX 76087
office: (817) 441-7844
fax: (817) 441-1544
www.eastparkerchamber.com
MONDAY – FRIDAY
9:00AM – 5:00PM
---

Visitors to Weatherford will enjoy our treasures as well, including a historic shopping district full of antique, boutique and specialty stores; museums, Chandor Gardens and the love-story to be discovered within its walls; an old-time Farmers Market; First Monday Trades Days; and a bounty of Victorian-era homes. Our crown jewel is the Parker County Courthouse, recently restored to its original splendor.
401 Fort Worth Highway
Weatherford, TX 76086
Office: (817) 596-3801
www.weatherford-chamber.com
MONDAY – FRIDAY
9:00AM – 5:00PM