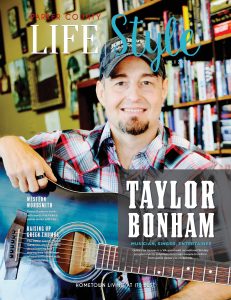 Current Edition – Spring 2018
Parker County Lifestyle Magazine is published quarterly and distributed throughout Weatherford, Hudson Oaks, Willow Park and Aledo. We produce each edition with exceptional quality and content to become long-lasting, coffee table-quality magazines.
The magazine is printed on high quality thick paper stock to give it a better feel and increased thickness. The spine of each publication is perfect-bound to resemble a book, and to hold together for many years to come. The covers are UV tinted to withstand exposure and maintain a quality our readers have come to expect.
Editions of each publication are proudly displayed throughout businesses, professional waiting rooms and state legislative offices around the area. Being area-specific, the content within the pages of each publication is sure not to become dated or out of style. Residents have stated that each edition is a legacy, holding information about its people and events that one can reflect on and show for years to come.
We would like to say Thank You for all those who've made Parker County LifeStyles possible.  We look forward to bringing you many more editions for years to come.  Please let us know if you have any article suggestions, or have an event you'd like featured in the pages.
Featured Articles
---
Putting Fun in Your Schedule

With all the additions as well as the events, Weatherford allows citizens to stay close to home without driving far into Dallas/Fort Worth, which is exactly what Blake, Shannon and the rest of their team are trying to accomplish
Something for everyone. Weatherford residents don't have to go very far to truly find something for everyone. Experience Weatherford, a resource and branding element, is a symbol of exactly what the city is and has to offer. A simple visit to experienceweatherford.com will link visitors to all the events taking place in the area, along with attractions, lodging, dining and details on how to partner with the city events.
The site and the concept didn't happen overnight and nor did all the events that create the endless opportunities for those of all ages. "In 2015,my colleague Shannon and I led the way for the creation of our first Holiday in the Park," Blake Rexroat, Director of Communications and Marketing for the City of Weatherford, recalled, "Then event coordinator Michael Howard created a Fourth of July event, which added a new element to our event offerings and every year since we have been building our sponsor program and trying to add a new event annually for the city of Weatherford."
---
Raising Up Green Thumbs

"The greenhouse at Chandor Gardens is where we grow over 2000 plants."
 The trees and shrubs have budded and maturing leaves are waggling in the Texas wind. Many with allergies know this all too well. Perennials and annuals in many bright colors have been taken off the shelf and placed in beds of their own. All these plantingsattract hummingbirds, butterflies and pests of all kinds as well. If you are like me, you often buy a beautiful plant, bring it home to the perfect spot and then watch it wither and die. The Parker County Master Gardeners Association has solutions about nurturing plants of all kinds. From the amateur gardener who is beginning a relaxing hobby to the pro who teaches gardening techniques, the Master Gardeners Association is a one-stop-shop for everything related to gardening in Parker County.
 The Master Gardeners tend to seven demonstration gardens in the county including the green house. The members meet every second Tuesday at the Extension Office to learn and deepen their understanding of selected topics. During the month, members meet at the projects where they weed, design, prune, water, and plant new plants.
---
Peaches Are Bigger and Better in Parker County, Texas

In 1991 the State Legislature named Parker County as the Peach Capital of Texas, because Weatherford and Parker County growers produce the biggest, sweetest, juiciest peaches around. Up to that point our area had been known for its watermelons and other produce.
And since then, the peach is celebrated each year at the Parker County Peach Festival, Weatherford's largest event and one of the best-attended festivals in Texas.According to the Weatherford Chamber of Commerce, "Last year more than 40,000 folks attended this outstanding one day event!" Since 1984, the celebration has grown to now include live music, the Peach Pedal Bike Ride, a "42" Domino Tournament, crafts booths and children's activities. Guests enjoy homemade peach ice cream, peach cobbler, peach pie, peach juleps, peach smoothies, and just plain juicy peaches. Across the state, Parker County really is known as the Peach Capital of Texas!
---
9 Ways to Protect Children from Drowning
Everyone thinks it won't happen to them. Unfortunately, drowning can happen to anyone. Keep your children safe around water with these nine tips to prevent drowning.
Get Wet. Get in the water. Be in arms reach of your child. Don't let your child out of your sight and be there to grab your children out of the water at any sign of trouble.
Adult Supervision. 100 percent adult supervision at all times. Be active in the pool with the children or watch like a lifeguard. Don't take your eyes off of your child. If you aren't in the water, be sure to watch your kids at all times. Don't spend time on your smartphone, talking to friends or walking away for even a moment. Do have a phone nearby in case of an emergency, but that's the only time anyone should be using one.
3. Monitor. Watch them until they are safe and inside. Monitoring your kids includes accounting for everyone who had been in the water, all the way to the house or apartment. Once you are inside, count again and make sure all the kids are safe and inside.